4-H Shooting Team: Competes and Wins at State Tournament
Find this article at:
go.ncsu.edu/readext?489392
On Saturday, September 23, 2017, the Tom Cowden Memorial Youth Shooting Sports
4-H Club traveled to Ellerbee, NC to Millstone 4-H Camp and competed in the State
4-H Shooting Sports Tournament. We are so proud of these youth and their coaches that have practiced daily for many weeks to prepare for this competition and are now able to rest a little until the next competition! If you have questions about joining the
4-H Shooting Sports Club or seeing what other opportunities that 4-H has to offer youth, please feel free to contact Hannah Elmore at Hannah_elmore@ncsu.edu or 336-753-6100.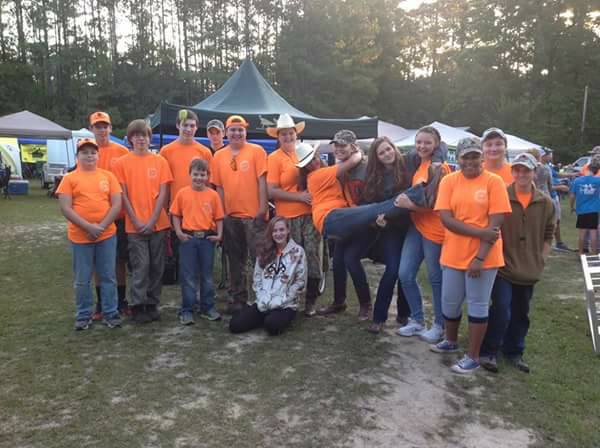 The following are the youth that competed and their placings.
Junior Competitors: Samantha Taylor, Naomi Hellard, Caleb Mathis, Jacob Durham, Rebekah Walker, Righteous Cline, Anthony Mills, Wesley Carter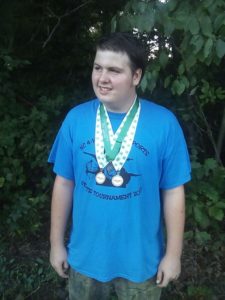 Junior Placings:
Righteous Cline: 1st Place High Individual and 1st Place High Individual Overall Individual Muzzleloading (State Champion)
Caleb Mathis: 2 nd Place High Overall Individual Rifle Match
Junior Blaze Team Members: Samantha Taylor, Naomi Hellard, Caleb Mathis and Jacob Durham
Team Awards: 3rd Place Match Rifle, 3rd Place Muzzleloading
Junior Green Team Members: Righteous Cline, Anthony Mills, Rebekah Walker
Team Awards: 5th Place Match Rifle
 Senior Competitors: Stephen Walker, Mattie Clark, Zoe Staley, Darcy Ren, Mason Hollar, Isaiah Mitchell, Miracle Cline, Chandler Carter
Seniors Placings:
Stephen Walker: 1st Place High Individual and 1st Place High Overall Match Compound Archery (State Champion); 1st Place High Individual and 2nd Place High Overall Air Pistol; 2nd Place High Individual and 3rd Place High Overall Sporter Compound Archery
Senior Blaze Team Members: Stephen Walker, Mattie Clark, Zoe Staley, Darcy Ren, Mason Hollar
Team Awards: 2nd Place Muzzleloading, 6th  Place T-Class Rifle, 3rd Place Compound Match Archery(Mason Hollar was not on the Archery Team)